Aluminum Storm Brace
for Overhead Garage Doors
Descriptions
Redesigned for quicker and easier installations, the Aluminum Storm Braces for Overhead Garage doors strengthen the garage door against the powerful inward forces developed during severe windstorms. The storm braces have been engineered certified to 120 mph wind load. The storm braces have not been subjected to wind tunnel testing or Dade County Product Approval.
Post Placement
8 - 12 foot doors - 1 post spaced equally.
14 - 18 foot doors - 2 posts spaced equally.
Height
For Overhead garage doors heights 7 to 8 feet.
Instatallation
1. Determine spacing for the post placement.
2. Position the base tube on floor against the horizontal panel stabilizer bar. Mark the locations of the two base holding rods. Drill two (2) 1/2" holes at least 2" deep in floor.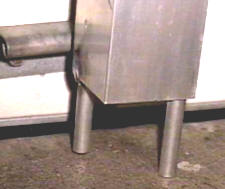 3. Attach the header receiving base to solid door header using four (4) 2 1/4" x 1/4" lag fasteners. Note: Be sure operating range of door top panel will clear header base
.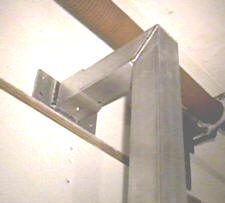 4. Using the base tube as a guide, determine the distance from the header to the inside edge of the Top tube. Cut the horizontal leg of the top tube to a length that provides a secure fite into the base tube and the header receiving base.
5. Mark and drill a 7/16" hole in the top tube to match the corresponding holes in the floors and header receiving bases.
6. Install 2" x 2" Negative Pressure Bracket. Align bracket on Horizontal Panel Stabilizer & drill 7/16" hole in stabilizer & base tube. Attach w 3/8" bolts & nuts.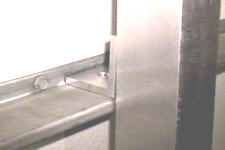 7. Secure all Fasteners to be sure the post fits snugly against the horizontal panel stabilizers.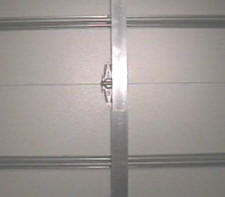 8. Remove the 3/8" header base bolt & negative Pressure Bracket. The brace is now ready for storage unit needed. The header receivers remains in place.
Quantity
Price

Sales Tax

Shipping and Handling
Price
1
$

125

.00
$

8.75

$

21

.95
$

155

.

7

0
2
$

230

.00
$

16.10

$

33

.95
$

280.05