Hurricane Storm Panels offer the best hurricane protection for the least cost. "Weather" it is aluminum or galvanized steel, we have it all. Our aluminum panels are available in thickness of .040", .050", .063" of an inch. We carry a 20 gauge steel and two aluminum panels that meet or exceed the toughest Miami-Dade County Building codes. These panels are designed to be installed into a top header track and a bottom studded angle track with screws six inches on centered. The panels slip into the upper header track and fasten to the lower track with washer based wing-nuts. A Wing-it™ wingnut driver is a must!!! The panels can also be attached directly to the wall without tracks by installing a concrete anchor and stainless steel screws. The tracks are available in a white or bronze finish. The panels are removed from the tracks and can be easily stored in your garage or shed.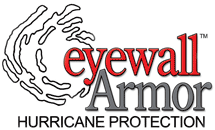 Our hurricane panels Eyewall Armor® are tested to withstand the NEW 2001 wind standard for ASCE 7-98, with base speeds of up to 150 mph wind load as well as Miami-Dade & Monroe counties with base wind speeds ranging from 110 to 155 mph. Tested in accordance with Miami-Dade county protocols PA201, PA202 and PA203, which cover impact from wind born debris, wind load and cycle load testing.
Stock sizes Aluminum .050 panels (Miami-Dade County Approved)

33"

42"

45"

58"

62"

69"

80"

82"

85"

88"

90"

96"

104"

115"

*Available only for pick-up in Miami, Florida warehouse only *

All Panels and tracks in stock (1-3 days). Must order panels before picking up.
Prices as of May 13, 2008 (subject to change without notice)

Storm Panels
Material
Thickness
Approval
Price Per/

Sq.

Ft

.

Aluminum
.040 "
SBCCI
$

4.95

Aluminum
.050 "
$

5.35

Aluminum
.06

3

"
$

6.25

Aluminum (white)
.050 "
$

6.45

Aluminum

(1/2 Panel)

.050 "
$

5.35

Galv. Steel
22 gauge
None
$

5.30

Galv. Steel
20 gauge
$

5.05

Clear Polycarbonate

$9.95
Tracks

Track Decription

Price Per/

Linear

foot
H-header
$

4.95

2" x 2"

Stud-Angle
$

4.50

U-header
$

4.95

F-header
$

3.05

1" build-out header

$5.95

2" build-out header

$6.95

3" build-out header

$7.95

1" build F-track

$4.75

2" build F-track

$5.25

3" build F-track

$5.75

Reverse Stud-Angle

$4.75

2" x 2" Reverse F-track

$4.95

2" x 2" E-Track

$4.95
Full Length

Tracks

(Not cut)

Track Decription

Length

Price Per/

Linear

foot
H-header

20'

$

4.45

2" x 2"

Stud-Angle

6" O.C.

20'

$

3.95

U-header

20'

$

4.45

F-header

20'

$

2.50

1" build-out header

20'

$5.25

2" build-out header

24'

$5.75

3" build-out header

24'

$6.25

1" build F-track

20'

$3.75

2" build F-track

24'

$4.25

3" build F-track

24'

$4.75

Reverse Stud-Angle

20'

$3.95

2" x 2" Reverse F-track

20'

$4.25

2" x 2" E-Track

20'

$4.25

Clear Polycarbonate

20'

$8.95

Miami-Dade County approved, holes punched 6" on center, 2" inches on height, H-header, ceiling mount and 2" x 2" stud-angle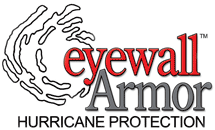 Prices subject to change without notice